First Universalist Society of Hartland, VT
Bed and Breakfast Program
Escape to beautiful Hartland, Vermont and it's surrounding towns, to enjoy the best of New England.  Relax among Central Vermont/New Hampshire's picturesque mountains, covered bridges and rivers, near historic national parks, an Ivy League college and visit with wonderful members of our warm community. Travelers will meet new like-minded friends while enjoying a comfortable stay at an affordable price. Hosts form new friendships and raise money for our church.
To reserve a room, look over the rates below and contact us via e-mail so we can match you to the best accommodations for your stay. See below for more details.
Single occupancy, per night $85.00
Double occupancy, per night $140.00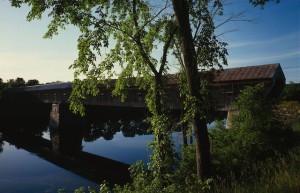 We have many different room and housing options. Not all homes are available at all times. We will work with you to find the best fit for your needs during the time you'd like to stay.
To reserve a room, e-mail with the following details:
Arrival date
Departure date
Number of adults
Type of beds requested (king, queen, etc)
Number of children
Any special food requests or needs (vegetarian, gluten free, etc)
Any additional requirements? (handicap accessible, pet free home)
Any additional requests? (help with transportation needed, close to specific destination or activity, etc)
Any other information that will be helpful in matching you to a good host and home.
You will be contacted within 48 hours by a member of our community with your best match and to confirm details. Reservations required 2 weeks in advance of arrival date. Payment in full must be mailed…
First Universalist Society of Hartland, VT
BnB Program
PO Box 75
Hartland Four Corners, VT 05049
… in advance, via check made out to First Universalist Society of Hartland, VT, or given to host upon arrival.