Whatever you are getting ready to celebrate:
Your Work Group, a Fund Raiser, Anniversary, A Life, or just Autumn glory…
Now you can get a head start on planning and be a guest at the party. Let the Red Aprons take the work out of it and serve you like royalty.
Red Aprons can expertly handle:
Planning
Food & Kitchen Management
Serving
Clean Up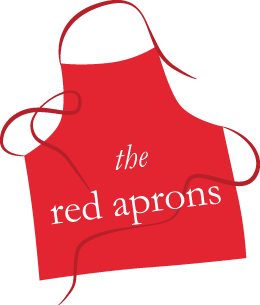 "You are wonderful!! You and the others among your cadre of charming helpers were so terrific!! Honestly, everything could not have gone more smoothly. I cannot thank you enough. We are so grateful for your thoughtful and caring coordination, and for the gracious way you yielded to suggestions and requests." –C.C.
"You guys did so much and did it so well I was able to relax and have a good time." –A.A.
"Without you, the wedding would not have gone nearly as smoothly or with so much panache. " –M.R.
"The red aprons did a fantastic job at the reception .. You all were quick to manage all the situations that came up."  –K.D.
"Be a guest at your own party!"
All proceeds benefit Hartland Universalist Society.