A Chocolate Extravaganza is coming on Sunday, February 11 in time for Valentine's Day.
This is our 10th Annual Live Chocolate Auction. In past years we have had between 40-50 items for bidding at this FUSH fundraiser.For those who haven't been to one of these super-fun auctions, this is how it works:
1. On the date of the auction chocolate items will be received in the Fellowship Hall before the worship service.
2. After the service there will be a very brief coffee hour (more like a ¼ hour) along with a chocolate fondue.
3. During this time the chocolate items can be viewed and everyone is urged to pick up a bidding number.
4. Once everyone is seated the live auction will start promptly at 11:15 am. There will be items set aside for only children to bid on with their own bidding number. All items need to be sold within the hour, so this goes along quickly.
5. Once finished, along with your bidding number, go to the cashier's table, get a confirmation of all items you won, pay for them (cash and checks are accepted, not credit cards) then pick up the items. For this auction bakers are needed to donate their favorite chocolate dessert or anything else, just as long as it has chocolate in it. If you have something to donate please be aware that not all bidders will be from our church, so the items need to be on plates or in containers that you don't need back. Also, please provide the name of your item along with the ingredients so people with allergies will be aware of what's in it.
In weeks leading up to the auction we will be offering a raffle for a $100 gift certificate to our marvelous next-door neighbor Skunk Hollow Tavern. The tickets are $5 for one and $20 for 6. The winner will be chosen during the Chocolate Auction just in time to take your loved one to dinner on Valentine's Day.If food-creation is not your specialty, you can help by soliciting s
ome special chocolate item or gift certificate for donation from local restaurants, bakeries, and stores. For more information or if you would like to help before or during the auction contact Nancy Walker at 603-863-0066 or nancy.mr.walker@gmail.com or see her at the church office on Fridays 10:00 am-2:00 pm.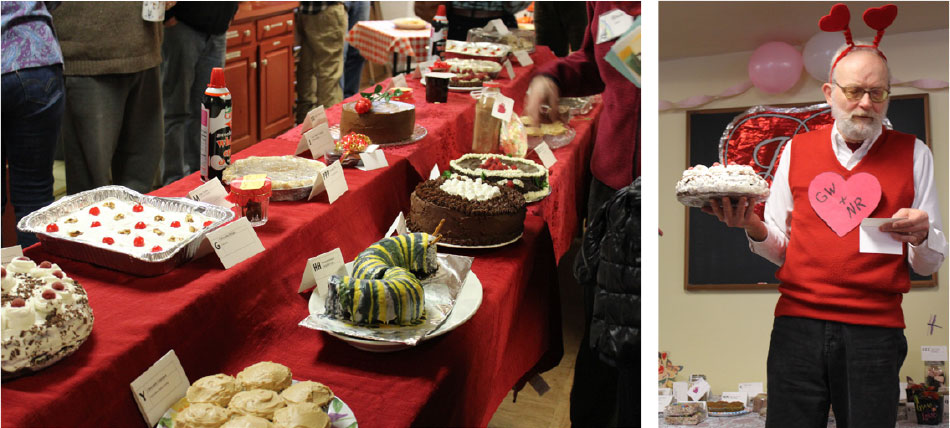 Social Share